New blood pressure guidelines released
For the first time in more than a decade, new high blood pressure guidelines have been released, affecting the definition of high blood pressure and eliminating the category of prehypertension.
The American Heart Association (AHA) and the American College of Cardiology (ACC) have released major new blood pressure guidelines that lower the definition of high blood pressure to 130/80 mm Hg rather than the previous 140/90.
Key highlights:
High blood pressure is now defined as readings of 130 mm Hg and higher for the systolic blood pressure measurement, or readings of 80 and higher for the diastolic measurement. This is a change from the previous definition of 140/90 and higher
The category of prehypertension is eliminated
By lowering the definition of high blood pressure, the guidelines recommend earlier intervention to prevent further increases in blood pressure and the complications of hypertension
More adults now with high blood pressure due to new measurements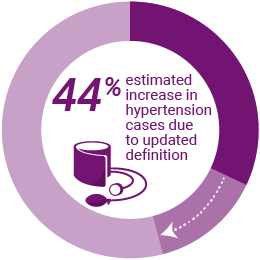 The AHA/ACC estimates that with the new lower guideline measurements, close to half of the U.S. adult population (46 percent) has high blood pressure, or hypertension, rather than 32 percent with the previous definition.
High blood pressure should be treated earlier with lifestyle changes and, in some patients, with medication – at 130/80 mm Hg rather than 140/90 – according to the report, reflecting complications that can occur at those lower numbers. High blood pressure is a leading cause of preventable heart disease and stroke deaths, second only to smoking.
The new guidelines also eliminate the category of prehypertension, which was previously used for blood pressures with a top number (systolic) between 120-139 mm Hg or a bottom number (diastolic) between 80-89 mm Hg. Patients with these readings will now be categorized as having either Elevated (120-129 and less than 80) or Stage 1 hypertension (130-139 or 80-89). Previous guidelines classified 140/90 mm Hg as Stage 1 hypertension. This level is now classified as Stage 2 hypertension.
New Blood Pressure Guideline Categories
---
NORMAL
Less than 120/80 mm Hg
ELEVATED
Systolic between 120-129 mm Hg and diastolic less than 80 mm Hg
STAGE 1
Systolic between 130-139 mm Hg or diastolic between 80-89 mm Hg
STAGE 2
Systolic at least 140 mm Hg or diastolic at least 90 mm Hg
HYPERTENSIVE CRISIS
Systolic over 180 mm Hg and/or diastolic over 120 mm Hg
---
Prescribing medication for Stage I hypertension only if a patient has already had a cardiovascular event such as a heart attack or stroke, or other high-risk factors
Understanding that many people will need two or more types of medications to control their blood pressure
Socioeconomic status and psychosocial stress are risk factors for high blood pressure that should be considered in a patient's plan of care
The new guidelines are the successor to the Seventh Report of the Joint National Committee on Prevention, Detection, Evaluation and Treatment of High Blood Pressure (JNC7), issued in 2003.
Value-based care & your hypertensive patients: Resources and tools to help close care gaps
Hypertension is among the most common quality measures tracked by providers and payers. Checking, recording and controlling hypertension among your patient population can help improve performance with this measure.
To provide the care your patients need, and help protect your reimbursement, value-based care quality measures must be met and maintained. We offer helpful tools and resources to keep you ahead of the curve and providing the best care possible. Download our resource and tool guide for cardiovascular quality measures to learn more.
---
Source: High blood pressure redefined for first time in 14 years: 130 is the new high, November 13, 2017, heart.org