Practical tips for a healthy outpatient joint program
Outpatient joint procedure volumes will increase 104 percent by 2022.1 Are you prepared?
To help surgery centers capitalize on this shift, McKesson Medical-Surgical gathered two of the industry's pioneering surgeons in outpatient joint procedures and a top analyst with The Advisory Board to provide their expert insights into developing an outpatient joint program.
In a recent webinar hosted by Becker's ASC Review and sponsored by McKesson Medical- Surgical, Cornerstone Orthopaedics and Sports Medicine's Thomas Eickmann, MD and Pacific Rim Outpatient Surgical Center's Michael Thorpe, MD, joined The Advisory Board's Stephen Carrick to discuss how to get started, the keys to clinical success and how to compete effectively in this market.
5-Year Volume Growth by Subservice Line1
Inpatient & Outpatient 2017-2022
| | | | |
| --- | --- | --- | --- |
| Subservice Line | Outpatient Growth | Inpatient Growth | Volume Change |
| Other Orthopedics | 29% | 9% | 6,029,382 |
| Trauma | 11% | 11% | 1,113,899 |
| Foot/Hand | 14% | -1% | 456,904 |
| Sports Medicine | 15% | 5% | 407,707 |
| Other Surgical Spine | 20% | 6% | 240,326 |
| Joint Replacement | 104% | -7% | 38,501 |
| Medical Orthopedics | — | 6% | 10,458 |
| Fusion | 51% | -3% | 10,102 |
| Medical Spine | — | 1% | 1,218 |
Among all orthopedic procedures, joint replacements are expected to make the most dramatic transition from inpatient to outpatient. Mr. Carrick said outpatient joint procedures have steadily increased over the last several years, but the "seismic shift" in how joint replacement services are delivered is just beginning.
"These trends are only expected to accelerate in the future as the aging population drives demand for surgery and payers increasingly steer volumes out of inpatient settings to control cost growth."
Three factors are behind the shift:
1 | Technological advances: Providers who are proficient in performing minimally invasive surgery can perform higher acuity procedures like joint replacements in outpatient settings.
2 | Increasing disease prevalence: U.S. obesity and osteoarthritis rates are increasing, especially among the baby boomer population, which is also staying active longer.
3 | Payer coverage expansion: Private payers are already covering joints in ASCs. Fueled by initial success and decreased costs, more are following suit. The public sector is also driving growth. In 2017, CMS removed total knees from the inpatient only list effective January 2018. The move allows the procedures to be performed in the hospital outpatient setting. Experts expect this joint coverage expansion could eventually extend to the ambulatory surgery center (ASC) setting.
---
Getting Started
If you aren't doing joint procedures today, you might be in the minority.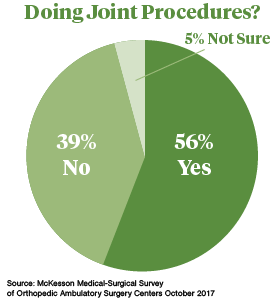 According to a recent survey done by McKesson Medical-Surgical, 56% of ambulatory surgery centers that perform orthopedic procedures are currently doing outpatient joints, and almost 30% of ASCs plan to add at least one joint procedure in the next 12 to 36 months.
When asked what advice he would give ASCs considering joint programs, Dr. Thorpe encouraged attendees to "Be brave and be confident."
"I'm not a fellowship-trained joint specialist. I'm a community orthopedist that has been doing joint replacements for 30 years. I think if you've already been doing joint replacements well, and you have an ASC, this is not a big deal. You can transition right away."
In 2005, Dr. Thorpe performed 200 inpatient total joints a year at his hospital practice. He had developed a multi-specialty ASC in 2003, and the center was already equipped with infrastructure for orthopedics and four rooms to accommodate overnight stays. He wanted to perform total joints at the ASC, so walked away from the hospital, researched protocols and created a set of best practices.
Dr. Thorpe met with the center's top commercial payer, negotiated a contract and then assembled a top-notch support team. After getting his center's vendors on board, he performed his first ASC-based total joint in May 2006. He started with total knees, before adding total hips and total shoulders. He performed 67 cases in 2017 and is on track for approximately 100 in 2018.
Contracting is Key
"I think the best thing I ever did was to sit down for several meetings with the medical directors at local insurers… they understand you're doing good things and that costs will be lower."
"Educating payers is vitally important," Dr. Thorpe pointed out. "Negotiating with payers, especially so early in the outpatient total joint migration cycle, was the hardest part." But for Dr. Thorpe it came down to one thing: "Money speaks. If you point out you're going to save them money, they're a lot more interested. Twelve years later, the first insurer I negotiated with wants all their commercially-insured patients to be [operated on] at our ASC because of the large difference in our costs."
Is your facility appropriate for joint outpatient joint procedures?
When asked whether there are any physical space requirements attendees should be aware of as they contemplate new or enhanced outpatient joint programs, Dr. Eickmann said it's important to consider overall facility, including, for example, having appropriate air exchange, positive pressure and HEPA filters in the OR.
"It's not uncommon for an ASC to have a sterilizer that only fits two pans at one time, which can make it difficult to do larger volumes of joint replacements."
"There are also instrumentation considerations," Dr. Eickmann said. "When you get started, there's going to be some sort of capital purchase… and it really has to do with the acuity of cases currently going on at that ASC… if they're already doing spine cases… then they're going to have a lot of the appropriate instrumentation that you need."
"It's not uncommon for an ASC to have a sterilizer that only fits two pans at one time, which can make it difficult to do larger volumes of joint replacements," Dr. Thomas Eickmann said. "It can be quite onerous to get those sterilized."
---
Keys to Clinical Success
Patient Selection
Both Dr. Thorpe and Dr. Eickmann emphasized how important proper patient selection is to outpatient joint success. Both surgeons started with ASA 1 and ASA 2 patients, and eventually found they could add ASA 3 patients who were relatively healthy for their status.
"It's important to have early success, so be strict at the beginning," Dr. Thorpe advised. "We chose to do ASA 1 and 2 patients initially. I make sure their BMI is less than 40 and that they've been medically cleared by either a primary care or specialist… and their hemoglobin A1C is under eight. Later, after we got going, we opened it up to healthy ASA 3 patients."
Dr. Eickmann errs on the side of caution if he believes a patient would require any sort of medical consult. Because a consulting physician isn't available at an ASC, he refers those patients to an inpatient setting.
Post-Op Care
"You want to make sure patients have great home support."
Dr. Thorpe said the most important aspect of post-op recovery is ensuring patients have a stable at-home support system. "I don't want to know that Aunt Tillie is flying in from Florida and may or may not make the plane," he joked. "Some patients haven't walked with crutches or a walker before, so I'll do gait training so that they're much more confident going into it."
"Home health is a good way to start off, especially if you're concerned about gaps in your care," Dr. Eickmann shared during the webinar. He went on to share that since 2013 his patients have gone home after four hours.
For physical therapy, Dr. Thorpe offers the majority of his patients home-based physical therapy until they're comfortable enough to go to an outpatient center. Dr. Eickmann utilizes outpatient therapy centers almost exclusively. He'll occasionally opt for in-home therapy if a patient has transportation concerns.
---
How to Compete
The Impact of Patient Consumerism
20% of self-referral patients chose their ortho physician based on family/friend recommendation1
When asked what trends attendees should be most mindful of as they build their joint programs, Stephen Carrick with The Advisory Board responded that "… the biggest trend we want to keep in mind is patient consumerism, which is playing a very significant role in how providers need to approach their referral growth strategy." Carrick went on to say that patient consumerism, or, simply, patients self-referring to an outpatient surgery center, is particularly relevant to joint replacement providers given that many of the procedures are done electively and patients have the time to shop for care.
"… patient consumerism… is playing a very significant role in how providers need to approach their referral growth strategy."
The Advisory Board surveyed over 4,000 consumers to understand what motivates patients to self-refer to specific providers. They found that word-of-mouth, price and convenience are major factors when patients make self-referral choices.
McKesson Medical-Surgical helps surgery centers succeed with a comprehensive product portfolio ranging from anesthesia drugs and supplies to orthopedic drapes and specialty instruments, as well as tools and services to help automate manual tasks so you can focus on the health of your patients and your business.
---
1: Advisory Board Market Scenario Planner; Service Line Strategy Advisor research and analysis 2018