Key strategies to improve your nursing home five-star rating
Have you checked your Five-Star Rating on Nursing Home Compare recently? How does your facility rate?
If your rating isn't where you want it, help improve it by gaining a better understanding of the Five-Star Rating system and implementing key strategies to help guide you to better outcomes and maintain a competitive edge as a preferred provider.
---
Quick overview of the Five-Star Rating system
The Five-Star Rating is publicly published on the Nursing Home Compare website developed by CMS. Every nursing home that participates in Medicare and Medicaid is assigned an overall five-star rating between one and five stars. Five stars means that the nursing home is well above average when compared to other nursing homes in its state. One star indicates that the facility rating is well below average when compared to other nursing homes.
The ratings are used by existing residents and their families, physicians, social workers and discharge planners, and alternative payment models, such as ACOs and insurance companies, as a basis for making nursing home placement and reimbursement decisions.
What are the primary goals for the Five-Star Rating system?
To help consumers make meaningful decisions about nursing home placement
To help nursing homes identify areas for improvement on their own
Beginning in 2018, the five-star information will be used for Medicare reimbursement
Components of the Five-Star Rating
1. Health inspections rating score
The results of your state health inspections, including both the standard and substantiated complaint surveys.
Key Point: The goal is to get the lowest number of points from your health inspection deficiencies.
2. Staff rating score
Information provided annually by each nursing home to the state survey agency.
Key Point: Calculated based on the information from the CMS 671 form, submitted by the facility's administrator.
3. Quality measures rating score
Based on the resident level quality measures that appear in the Five-Star Rating system. The rating involves both long and short term quality measures.
Key Point: Quality measures are national measures, so data is collected and compared across all nursing homes in the country.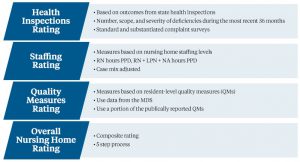 How is the Five-Star Rating calculated?
The three ratings scores are used to calculate the overall nursing home rating, which is then compared to other nursing homes in the state in order to derive each facility's star ratings. See below for a step-by-step description of the rating calculation process.
Step 1
Start with the health inspection five-star rating
The overall rating cannot be more than five stars or less than one star
Step 2
Add one star to Step 1 if staffing rating is four or five stars and greater than the health inspection rating
Subtract one star if staffing is one star
Step 3
Add one star to Step 2 if the quality measure rating is five stars
Subtract one star if the quality measure rating is one star
Step 4
If the health inspection rating is one star, then the overall quality rating cannot be upgraded by more than one star based on the staffing and quality measures
Step 5
If the nursing home is a Special Focus Facility (SFF) that has not graduated, the maximum overall quality rating is three stars
Strategies for improving your Five-Star Rating
Below are some key strategies that can be used to improve or to continue improving both your individual and overall ratings.
Health inspections rating
Use the QAPI (quality assurance and performance improvement) process to address or identify any existing or new areas of non-compliance
Perform compliance reviews (focused, general, mock surveys) to make sure your plan correction is still in place and vigorously followed
Conduct root cause analysis to understand causes or contributing factors
Implement improvements on a small scale at first, then roll out those that achieve successful outcomes to the rest of the facility
Celebrate successful improvement projects with your entire staff!
Staff rating
Make sure you're completing the CMS 671 form accurately

Download the form and instructions in advance of your survey to prepare your presentation

Focus on both retention and recruitment of staff

Routinely and accurately submit your payment-based journal data for CMS to use in accurate calculations
Quality measures
Understand the details of what information is included in each quality measure

Review MDS coding accuracy

Look at your clinical systems and care delivery around the quality measures

If care is not optimal, use your QAPI process to improve it

Use CASPER monthly comparison reports to monitor changes
---
Next steps
CMS continues adding quality measures

Rehospitalization quality measure begins in 2017, with measurement scheduled for 2019

MDS focus survey continues at least through 2017, with increased scrutiny by CMS
For additional information/resources, download the Nursing Home Compare technical user guide
Rehospitalization quality measure
All cause, all condition

Not for Medicare Advantage
Not for primary cancer diagnosis or pregnancy
Not for discharges AMA
Not for hospital stay for fitting of prosthesis
Not for observation stay

Admitted to SNF within one day of discharge from acute hospital
Had Medicare for 12 months prior to hospital admission