In this microbiology overview, we explore terminology, types of testing and testing methods.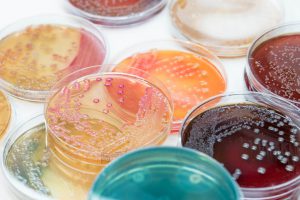 Microbiology is the branch of laboratory science devoted to the identification of microorganisms including bacteria, yeasts, fungus and viruses in humans. For most of the 20th century, microbiology was the area of the lab that stayed closest to its traditional roots: plated agar media that grew a variety of microorganisms in temperature and humidity controlled environment.
Hallmarks of traditional microbiology using plated media included its long turnaround time (24-48 hours), technique dependency, need for highly trained microbiologists and lack of automation. Its technique dependency coupled with the need for a high level of training and experience led to microbiology attaining CLIA high complexity status under CLIA '88. This status means that microbiology labs need to meet the highest standards of personnel qualifications, quality control and proficiency testing to maintain their CLIA license.
Microbiology has taken on increased importance in the past 30 years as resistant microorganisms have challenged the ability to develop new antibiotics (MRSA is an example) and the threat of resistant bacteria outbreaks becomes increasingly possible. Antibiotic stewardship promoting the use of antibiotic upon proof of need rather than empirical treatment of symptoms such as sore throat is promoting a more thoughtful and scientific approach to the use of antibiotics. As a result, there is an increased desire to have full service microbiology labs in urban and community settings.
In addition, community acquired infections including Clostridium difficile (C. diff) have arisen in part as a result of the use of antibiotics which permit C. diff to grow opportunistically when other mircoorganisms are eliminated by antibiotics. There are a number of emerging clinical and patient care themes impacting microbiology today and the pace of new products and technologies is growing rapidly.
Selected, high incidence microbiology tests (group A streptococcus, influenza, C. difficile, Strep pneumoniae and RSV for example) have been developed in simple, CLIA waived lateral flow methods, some with readers available from several manufacturers. Speed of result is typically under 20 minutes with simple to read or automated reading of results. These systems are popular point of care tests in primary care and urgent care settings.
In more recent times, molecular tests for microorganisms have been developed that promise higher levels of sensitivity, specificity, speed and automation. Many respiratory and sexually transmitted disease organism assays are already available on molecular platforms and the pace of research and development in this area is rapidly adding new tests, improved performance and more choices of manufacturers every day.
---
Microbiology Testing & Testing Methods: Three Sub-classes
1. Conventional Plated Media
Typically 5% sheep blood agar, this technique promotes the general growth of a variety of bacteria from a patient specimen (blood, stool, urine, tissue, etc) and is the first step to more specific identification of the specific disease causing organism. Time to result varies based on the organism, but usually requires 24 to 48 hours, with specific identification of the organism as a secondary test. There are a number of types of plated media designed to enhance the growth of specific species of bacteria.
2. Automated Identification & Susceptibility Systems
These systems use a combination of instrumentation, panels of reagents that detect specific bacteria and automated susceptibility testing that determines which antibiotics are most effective and can even provide accurate minimum inhibitory concentration data to help determine the emergence of resistant bacteria. Finally, an antibiogram is generated by the automated system that shows the bacteria identified and which antibiotics will effectively treat them. Time to result varies from under 6 hours 18 hours and is typically performed as an overnight assay. The introduction of automated blood culture and microbial identification and susceptibility systems has improved the level of automation and shortened the time to result for these testing protocols.
3. Blood Culture Systems
These systems automate the identification of microorganisms in blood and are used to identify pathogens in the blood stream that can lead to septicemia and end organ failure. Time to result is typically 24 hours for earliest results and up to five days for slower growing organisms. There are certain factors that can make blood culture systems more difficult, including:
Rigid personnel requirements
CLIA high complexity
Tricky outcomes if not done well
Time to result is slow
---
The Challenges of Microbiology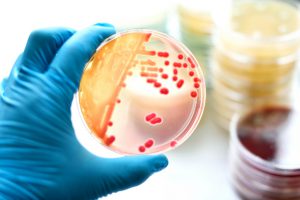 There are many general challenges of microbiology all of which impact result time, accuracy, quality and availability. Classification as CLIA high complexity imposes strict personnel and test quality assurance requirements and effectively limits the number of testing sites willing, able or staffed to meet these requirements.
Many of the more traditional microbiology methods, including plated media, bring their own challenges. Plated media are short dated, typically 60 days from date of manufacture. In addition, there is a very broad range of media that either promote general growth of microorganisms or more specific organism growth which compounds the test and media selection process and limits the number of media the lower volume laboratory can economically offer. As a result, lower volume labs face the likelihood of waste for even routine blood plates. Low test volumes for more specific media likely limit the amount of specialty testing done in most settings resulting in sending many tests to reference labs, which delays result availability further. Traditional manual methods can have results that are difficult to interpret, particularly for plates where multiple organisms grow simultaneously. A trained eye and substantial experience are required to perform these tests well on a consistent basis.
The more sophisticated techniques, including identification and susceptibility testing (ID/AST) and blood culture have challenges of their own. Both technologies offer the benefits of automation, but require initial capital outlay, equipment maintenance time and costs, and take up space in the lab. They also require sufficient patient test volume to warrant offering the tests as well as qualified operators to assure timely, accurate results even from automated testing systems.
Specific challenges community hospitals face include:
Low volume of testing

Causes issues with reagent waste
May limit the tests offered
Limited experience of the lab may inhibit result quality for subjective tests

Patients with significant suspicion of sepsis referred to tertiary care hospitals where practical
Facility location and population may limit availability of skill laboratorians

Pathologist may be shared with numerous facilities
Pathology technicians may be in scarce supply as well

Availability of capital to set up and maintain a microbiology lab
Outside sources of information (supplier and distributor personnel) often focus on the larger facilities