Monitoring heart disease with laboratory testing in primary care
As heart disease continues to be a major health concern, causing thousands of deaths per year, it's important for healthcare providers to actively help their patients monitor and treat this disease. Laboratory testing can help you monitor several contributing factors to heart disease
In the United States, while deaths from heart disease have declined from 431.2 per 100,000 of population in 1975 to 168.5 per 100,000 in 2015, heart disease is still the number one cause of death in the United States. It accounts for more than 610,000 deaths per year in the US.1 But, that's just the tip of the iceberg. The impact of heart disease goes far deeper than that.
How broad is the impact of heart disease in the US, particularly in primary care?
Not only is heart disease the number one cause of death in the United states, the CDC list of top ten causes of death also includes stroke (#5) and diabetes (#7), which are related to cardiac disease.2 The healthcare system in the United States keeps busy with heart and circulatory diseases. How busy?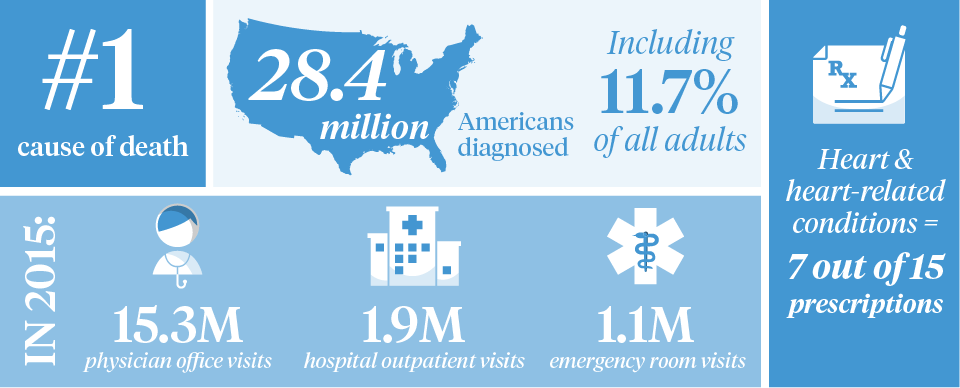 28.4 million Americans are diagnosed with heart disease
11.7% of all adults are diagnosed with heart disease
In 2015, there were 15.3 million physician office visits with heart disease as the primary diagnosis
Heart disease accounted for 1.9 million visits to hospital outpatient departments in 2015
There were more than 1.1 million emergency room visits for heart-related causes in 2015
7 of the top 15 prescription drugs in the US are for heart or heart related (hypertension and diabetes) conditions

In adults over 75, 10 of the top 14 prescription medications are for heart related conditions
What factors are influencing the data on heart disease?
The positive:

Prevention through new prescription drugs
Prevention through fitness and healthier eating
A significant decline in the percentage of Americans who smoke

The negative:

Chronic diseases such as diabetes and hypertenstion
Rising rates of obesity
Positive factors: Prevention, new prescription drugs & lifestyle changes
The American Heart Association (AHA) lists the key risk factors for heart disease as:3
Blood pressure
Physical activity
Cholesterol
Healthy diet
Healthy weight
Smoking status
Blood glucose
Over the past 40 years, Americans have taken a more active role in managing their personal health and fitness, and the decline in heart-related deaths is explained in part by these changes.
From the prescription side of things, advancements in lipid lowering agents, particularly statins, have resulted in more effective means to lower cholesterol and related lipids. Angiotensin converting enzyme inhibitors (ACE inhibitors) have made a significant improvement in effective treatment of hypertension.
Fitness and healthy eating habits are being adopted by increasing numbers of Americans and result in lowered risk of heart disease and heart-related conditions.
A significant decline in the percentage of Americans who smoke is certainly a factor. In 1974, 36.9% of American adults smoked cigarettes. In 2015, the percentage of adult smokers had declined to 15.6% and continues to decline, though more slowly in recent years.
Negative factors: The risk continues
Diabetes: The percentage of Americans suffering from diabetes continues to rise, from 8.8% in 1988-1994 to 11.9% in 2013-2014
Hypertension: The percentage of Americans with uncontrolled hypertension has declined sharply from 77.2% of all Americans with hypertension in 1988-1994 to 51.3% in 2013-2014, but is still substantial, with more than half of the US hypertensive population experiencing uncontrolled hypertension. New blood pressure guidelines from the AHA are also expected to have an impact on the number of Americans considered to be hypertensive
Obesity: CDC classifies 37.8% of adult Americans as "obese" in 2013-2014
The big picture: How does laboratory testing fit into preventing & treating heart disease?
In primary care, the emphasis is on both prevention of heart disease and monitoring it in non-acute settings. While the acute care space is largely where diagnosis of acute cardiac episodes, including heart attack and stroke are encountered, this article will focus on the tests in the primary care space.
It's important to note that vital signs monitoring is a critical companion to lab testing, in addition to history and physical findings, to round out the complete patient picture. Of the seven primary heart disease contributing factors the AHA has identified, five of these are covered by lab screening/monitoring methods and vital signs monitoring.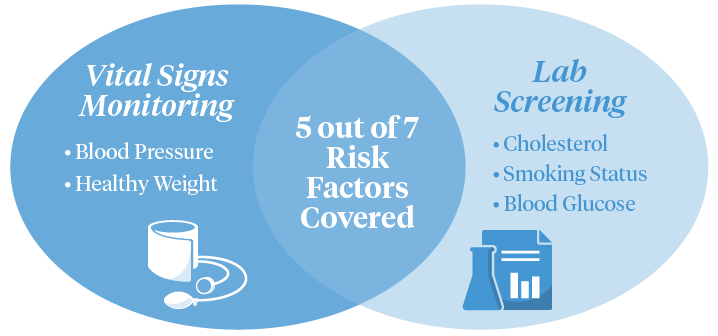 Lab tests for screening/monitoring heart disease risk factors:
| | | | |
| --- | --- | --- | --- |
| Test Name | Indicates | Waived? | Comments |
| Basic/comprehensive metabolic panels | Overall metabolic status | Yes | General health screen |
| Cholesterol/HDL/Triglycerides | Elevated lipids increase risk | Yes | Multiple options available |
| Glucose | Elevated glucose increases risk | Yes | Some glucose methods are available on lipid panel instruments |
| Electrolytes | Metabolic imbalance can be related to heart disease | Some methods | Electrolytes can indicate heart failure or hypertension |
| D-dimer | Clotting risk | Some methods | More stroke-related |
| hs-CRP | Inflammation | No | Can indicate an underlying condition that could lead to heart disease |
| Beta natriuretic peptide | Increases in congestive heart failure | Yes; some | N/A |
| PT/INR (prothrombin time) | Clotting risk | Some methods | More stroke-related |
Lab tests are more appropriate in acute care diagnostic settings
The diagnosis of an acute coronary episode is most commonly encountered in acute care settings where immediate intervention is most available to treat the condition. The tests listed below are most commonly used in these settings, particularly in specialty and tertiary care hospitals.
All of these tests, in addition to a variety of other metabolic lab tests, are used to determine whether an acute coronary episode is being encountered, as well as to attempt to understand its severity. There are a number of other tests that may be performed at the discretion of the healthcare personnel managing the patient, including albumin, creatinine and complete blood count, that vary based on the patient presentation and other factors.
Muscle damage indicators:

Troponin I
Myoglobin
CK-MB

Metabolic disorder indicators:

Electrolytes, particularly sodium & potassium
Calcium

Coagulation:

Clotting factors including PT/INR, APTT, fibronogen and others
D-dimer
The laboratory in both primary care settings and acute care settings plays a critical role in every element of diagnosis, monitoring and treatment of heart-related illnesses. From first indicators of the emergence of risk factors such as elevated lipid levels and glucose, to immediate diagnosis of an acute myocardial infarction (heart attack) in the hospital, lab tests, combined with vital signs monitors, set the stage for continuing progress against this leading cause of morbidity and mortality in the United States.
With the overall decline in heart-related deaths over the past 45 years, and continuing progress in life style improvements, prescription medications and use of key screening and monitoring tests, further decreases in morbidity and mortality can be expected. If the heart disease trend line continues as it is at present, it may drop below that of cancer in the United States in the next 20 years and make heart disease the number two cause of death, rather than its current number one position. Lab tests will continue to play an important role in the evolution of diagnosis and monitoring of heart disease.