Guidance for the outpatient lab: How working with your distributor can help improve supply chain efficiency
A good distributor representative can guide even the most seasoned outpatient-lab professionals
Carolyn Blair has worked in a lab for about 40 years, first as a phlebotomist, then as a hematology supervisor in the hospital setting, and today as laboratory manager of the Diagnostic Clinic of Longview (Texas). Charles Powell, M.D., meanwhile, has been practicing medicine for 19 years, including 16 years in the Army and Navy. Today, he is executive vice president of clinical operations for Healthcare Associates of Texas in Irving.
Despite all those combined years of experience, Blair and Powell still draw on the expertise and knowledge of their primary distributor – McKesson Medical-Surgical – to help keep their labs running efficiently.
Diagnostic Clinic of Longview
Founded more than 35 years ago, the Diagnostic Clinic of Longview (DCOL) is a multispecialty physician group practice that includes 18 locations, more than 90 physicians and 30 mid-level providers. The majority of its lab work is performed in the central lab in Longview, but outlying locations have phlebotomy draw stations and perform point-of-care testing as needed. The lab performs more than 1 million tests per year.
"Evan comes by once a week," says Blair, referring to McKesson Medical-Surgical Account Manager Evan Stanley. "My chemistry tech sends orders on Monday; Evan comes in on Wednesday, walks through the lab, and we let him know what is needed. Everything is delivered on Thursday. "Rarely is it not here on Thursday," she adds.
Stanley is quick to put Blair in touch with directors and techs from labs that may be using a piece of equipment in which she has an interest. "He is always telling me what's out there, and he lets me be the judge," she says. "He takes us to other labs and gives us time to talk to the techs, to ask questions, to see how they feel about it – and he doesn't hover over us." DCOL acquired its current chemistry analyzer – which Blair describes as "the best we've had in my 22 years here" – after visiting a user in Oklahoma.
Staffing is a challenge for DCOL, as it is for other labs, says Blair. Finding well-qualified people takes time and effort. Add to that the stress associated with running a lab today, with all the required regulations, and providing comprehensive training to the staff.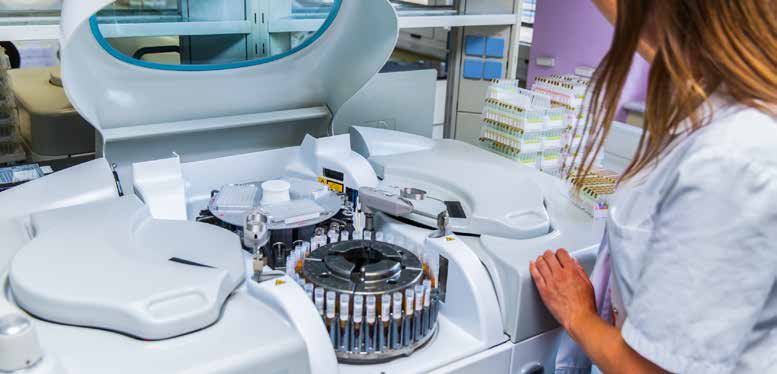 "That's why, in the end, it's important find a good rep like Evan," she says. "He's kind of old school; not many account managers come around once a week like he does. We really depend on him, and it takes a lot of stress off us, knowing we will receive what we ordered in a timely manner. Any time we have issues, I'll ask him, 'Have you heard of this before?' or 'Do you have a customer with this problem?'"
Stanley guides DCOL in choosing instruments. "That's very important to us, because we want to keep our instruments for as long as possible" says Blair. "We want to make sure we're making the best decision for our needs." He also helps the lab identify reliable service options when needed. "When you run the volume of tests we do in a 12-hour period, fast and efficient service 12 is very important. Evan helps us get any assistance we may need regardless of what brand equipment we purchased."
Healthcare Associates of Texas
Healthcare Associates of Texas (HCAT) is on the move. Founded 26 years ago by two doctors and one office, HCAT now has 48 providers, and it intends to double that number by the end of 2018. This summer, HCAT will move into a new "mother ship," a 95,000-square-foot facility providing primary care and specialist services, imaging, laboratory, nerve conduction, urodynamic and sleep studies, and more. Phase II of the construction project, set to begin later in 2018, will include a 60,000-square-foot facility housing an ambulatory surgery center and medical offices.
"We grew to three locations on our own dime," says Powell. "Then we realized that, as doctors, we were OK businesspeople, but it was time to bring in some heavier guns," in the form of private equity firm Webster Capital. "Our concept is to grow by acquisition and organic growth, and they will help us with both." Powell actually prefers the word "integration" to "acquisition" when speaking about new clinics. "We wouldn't buy a practice if things weren't already working," he says. "We like to step in and adopt those things that are working well, and bring in solutions of our own that can improve operations."
One of those "solutions" is McKesson Medical-Surgical Account Manager Jonathan Poulin, who began servicing HCAT five and a half years ago.
McKesson helps HCAT maintain what Powell describes as "that very fine balance" between too much inventory on the shelves, and shortages, which can jeopardize patient care.
"As we have grown, McKesson has made sure that Jonathan is the representative for the new facilities," says Powell. "He visits the locations, reviews their practices, including what lab tests they do, and works on standardizing supplies and equipment through HCAT, which gives us economy of scale." He also helps HCAT decide which tests formerly done in the facility or sent out to a reference lab may be performed more efficiently at HCAT's central lab. "Doctors love it," says Powell, referring to the central lab. "Turnaround times are faster, they have more control over their panels, and it's seamless for the patients."
McKesson helps HCAT maintain what Powell describes as "that very fine balance" between too much inventory on the shelves, and shortages, which can jeopardize patient care. McKesson has also played a key role in helping HCAT upgrade its lab equipment. In July, for example, they helped HCAT implement the FilmArray system from BioFire, a molecular laboratory instrument that can identify multiple diseases in an hour. Its GI panel, for example, identifies 22 disease targets for bacterial, viral and parasitic gastroenteritis infections; its respiratory pathogen (RP) panel identifies 20 viral and bacterial respiratory pathogens.
"Not every patient needs that test, but using it in a responsible manner will improve patient care," says Powell. "Having accurate and comprehensive test results in one hour enables physicians to immediately prescribe treatment protocols that target the specific infections, rather than administering a wide-spectrum antibiotic, which may not be necessary," he says.
For a growing physician practice or health system, continuity in the supply chain is critical. Carolyn Blair and Charles Powell believe they have found it, with help from McKesson Medical-Surgical.
Outpatient lab testing & the supply chain
As a supply chain executive, you may not be conversant with hematology, chemistry, immunoassays, analyzers, molecular testing, point-of-care testing or CLIA. You may not be familiar with the supply chain-related demands of the typical outpatient lab.
And yet, chances are, your health system has been actively acquiring physician practices, surgery centers, urgent care centers, even retail clinics, over the past few years. And with each one comes a lab.
"Having lab testing close to the point of the patient encounter with immediate results, diagnosis and treatment in the non-acute space of the health system can be an essential component in achieving higher quality outcomes and increased patient satisfaction," says Lynn Glass, Vice President of Strategic Accounts, Lab, McKesson Medical-Surgical.
"Failure to fully integrate a lab strategy that addresses standardization, upgrade in product, and efficiencies impacts both supply chain and patient care with decreased operational and financial efficiencies and delayed care to patients with lower quality outcomes. Having a distribution partner who understands the complexities encountered with acquisition and consolidation and the benefit of an integrated lab strategy is essential to healthcare delivery in today's environment.
Laboratory: A key pillar
"Laboratory is a key pillar to success with value-based-care programs from government and private payers alike," says Patrick Bowman, Director, Strategic Accounts, Lab, McKesson Medical- Surgical. "A significant amount of a health system's revenue is based upon value-based-care programs, which essentially score an organization's ability to achieve certain benchmarks, many of which require both a higher level of patient compliance and completed laboratory results."
Lack of control over those labs can have negative operational, financial and clinical consequences. "Having multiple laboratory products that execute the same function can result in clinical inefficiencies, as not all tests replicate the same result and range," he says. "This leads to both confusion and potential misdiagnosis. Purchasing efficiencies are also sacrificed, as without a strong formulary, the opportunity to negotiate for best price tier from the distributor or manufacturer may be missed."
Glass adds, "As health systems acquire more and more sites, things can become increasingly disorganized. There may be no standardization of products or processes. You might find a hundred non-acute locations, each one ordering from a different vendor, ordering different tests, and employing different supply chain processes."
Health system administrators – including supply chain executives – might assume (or hope?) all those non-acute operations are taking care of themselves, Glass says. "And they are … but they might not be doing a very good job of it."
Point-of-care
Some healthcare systems opt to pull all testing out of the non-acute clinics and into a central lab, says Bowman. "I think the easy answer for many is, 'We have this hospital lab that runs like a well-oiled machine, so we can do our tests there at a fraction of the cost.'"
But doing so can lead to unacceptable delays getting results, making a diagnosis, and beginning treatment, he says. What's more, a high percentage of patients – particularly those with chronic conditions – fail to comply with instructions to go to a central lab for a test. That's a problem, because patient compliance and engagement are in direct correlation with better patient outcomes.
"It's important to see the big picture, to have a strategy," he says. "Keep as close to the clinicians as possible those tests whose results are needed quickly," even if the nominal cost of running them at the central lab might be less.
"It's important to address and provide healthcare in conjunction with value-based care," adds Glass. Utilizing point-of-care lab testing provides immediate diagnosis, treatment and a higher quality of care. This will impact both reimbursement and the overall patient experience, and also addresses management of the chronic disease patient population.
Patient satisfaction: Top 3 reasons a provider failed to meet expectations
1 | Speed of diagnosis
2 | Wait time to receive care
3 | Unable to get laboratory test results in same visit/appointment
Supply chain's role
Just as they must in the hospital, supply chain executives must work as part of a team to take control of the scattered nonacute labs.
"Decisions on non-acute lab strategy should be made by committee, which will often include representation from nursing staff, medical leadership, supply chain, finance and the laboratory director or manager," says Bowman. "A committee of this size and scope is essential, because non-acute laboratory testing can greatly impact each of their respective areas of responsibility."
A distributor with experience in the non-acute lab setting can help the team make sound decisions. For example, McKesson can help supply chain executives take control of the non-acute continuum through improved supply chain operations, stronger financial performance and building a clinical infrastructure that leads to better outcomes.
"A large hospital lab operates very differently than lab in the non-acute space of a health system," says Glass.
"A distributor with the capability of servicing the large hospital may not have the same level of expertise in the non-acute sites. Adds Bowman, "The delivery model is key in this space. An acute hospital lab is likely to have semi-trucks backing up to their dock and delivering supplies once a week. But the larger system might have 50 to 100 sites with ongoing needs for point-of-care lab supplies. They need a vendor that can deliver in vans to all those sites, and who knows how to pack and ship in small quantities, while maintaining product integrity throughout the chain."
McKesson supply chain operations has a storage and delivery model that can efficiently provide cold chain storage and delivery, lot track and trace, lot sequestration and shipments in low units of measure, and additionally has relationships with prime vendors to 18 afford best contracting and pricing. McKesson can sequester specific lots of reagents, supplies and controls, then deliver them to the non-acute sites as space allows.
"We're more than a distributor," says Glass. The company's strategic account teams, point-of-care specialists, lab equipment specialists, consultants and technology resources can help health systems implement solutions that drive increased revenues, operational and financial efficiency, and a higher quality of care to the patient with better clinical outcomes and higher patient satisfaction.
"It's a matter of changing the conversation, changing the whole process by which lab services are provided and collaborating to determine a new strategy that best serves their patients and provides the highest quality in lab testing."