The clinically integrated non-acute supply chain
When navigating the non-acute supply chain, the same rule applies as in the hospital setting: Listen to your clinicians.
---
In many respects, the non-acute world is different than the acute-care environment in which most supply chain executives built their careers. But it turns out that the tools those executives perfected in the hospital are similar to those they will need to service non-acute sites:
The ability to win the trust of clinicians or office managers
The ability to demonstrate concern not just for cost and efficiencies, but for patient care and clinicians' well-being
The ability to enlist key clinicians in product standardization, group purchasing, and other supply chain initiatives
Patience, a positive attitude, and a willingness to continually educate non-acute-care-based staff on the benefits of relying on the supply chain department for their needs
The first step in navigating the non-acute supply chain is to recognize how important it is to the healthcare continuum, even though supply spend is typically much smaller than in acute care.
"Traditionally, we have been acute-care-centric," said Gary Rakes, vice president supply chain, Aspirus, Wausau, Wis., at a recent Supply Chain Leadership Forum discussion hosted by McKesson Medical-Surgical. "But as our systems acquire more facilities in the non-acute-care setting, we are being brought to the table and asked how we can make them more efficient. Our leadership is looking to us for answers."
The IDN currently has 50 non-acute-care facilities in Wisconsin.
"At first, I struggled with understanding the non-acute environment," added Dave Walsh, director supply chain administration, Boston Children's Hospital, which has four non-acute sites and over 61 large physician practices and clinics. "I thought, 'You want me to spend time on $1.2 million dollars when my acute care spend is $400 million? Not worth my time.'" But though the dollars may seem small, the supply chain needs of clinicians and their patients are just as intense as those in the hospital, he added.
Success depends on demonstrating to clinicians the value of the services supply chain can offer. "A big part is educating them on supply chain, that 'We can do this for you,'" said Walsh. "But you have to be gentle, because as you start to change the way things are done, you're entering uncharted waters." His advice: Seek champions, get some wins under your belt, and become an indispensable partner to the offsite facilities.
---
Clinical Integration
Just as they must on the acute-care side, supply chain executives have to demonstrate to non-acute-care providers that they are just as concerned about patient outcomes and clinician satisfaction as they are about cost and logistics, according to panel members.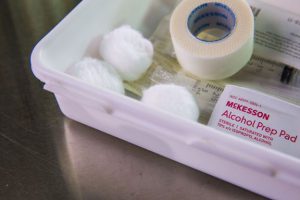 "Our primary goal is to make sure we continually educate and involve the non-acute-care clinics with what we're doing," said Philip Bateman, director of materials management, Woman's Hospital, Baton Rouge, La., which has 8 non-acute-care sites. Bateman's team does so through meetings, webinars and conference calls. A clinical resource coordinator builds bridges between supply chain and clinicians. "We show [the offsite facilities] that we can do many of the things they're doing now. And by keeping them involved in what we're doing, they feel a part of something bigger."
"Clinical integration is very, very important," added Walsh. "The perception is, materials professionals only care about money. But that's not true. We bring clinicians into the process, and they become our advocates." Working closely with physician groups and seating a registered nurse on the value analysis team are helpful strategies.
"Today, it's paramount you have a clinically integrated supply chain," said Rakes. At Aspirus, a registered nurse leads the clinical value analysis program. "The focus on cost has now shifted to also include patient outcomes and clinical quality. We have to continue to move down that path, and as we do, we get more buy-in from clinicians. In the past, they might have seen us only as the department that wants to get the most for our dollar."
---
Non-Acute Supply Chain Challenges
"Managing the many different care settings across the non-acute supply chain can introduce significant complexity," said Greg Colizzi, vice president marketing, McKesson Medical-Surgical, which regularly services more than 400,000 non-acute-care sites, including physicians' offices, skilled nursing facilities, surgery centers, home care agencies and others. "From the physician's office to the patient's home, each environment has diverse product needs, technology and workflow requirements, and different service models."
Panelists pointed out that products used in the non-acute setting often differ from those used in the hospital, and delivery is almost always low-unit-of-measure. If supply chain is asked to support a home care agency, the department needs to time deliveries to coincide with the caregiver's visit to the home – and make sure products are in discreet packaging for patient privacy.
What's more, when the supply chain team starts servicing non-acute-care sites with pharmaceutical and lab products, it must deal with a host of operational considerations, such as cold chain storage, lot sequestration, Drug Supply Chain Security Act (DSCSA) regulatory data and chain of custody.
In many non-acute sites, a nurse or other staffer – not a supply chain professional – handles purchasing and inventory control, which takes time away from caring for patients. Recent acquisitions mean dealing with multiple operating systems, making visibility to data across the network nearly impossible.
Another challenge is simply measuring supply chain success in non-acute-care sites, according to the panelists. Key performance measures in the non-acute world lag behind those in the hospital, particularly as they apply to financial performance, said Rakes. The health system's electronic medical record system might very well extend to outlying sites, but the ERP seldom does. "So there are not a lot of business metrics available," he said. "It's hard to monitor contract compliance or standardization if you lack that visibility."
"You have to spend a lot of time digging through multiple systems," added Walsh.
And what are the chances administration will allocate extra resources for supply chain to service newly acquired off-site facilities? Slim to none.
"Health systems of all sizes struggle with implementing initiatives for several reasons," said Colizzi. "We think of the non-acute continuum as complicated and fragmented — and full of opportunity."
Supply chain executives should do the same.
"I can't tell you how many non-acute facilities are reaching out to us," said Rakes. "We're getting involved, building relationships, and they are trusting us. Success breeds success."
---
Five Keys to Success in the Non-Acute Supply Chain
Supply chain executives recommend focusing on these key areas:
Don't be tempted to minimize the non-acute supply chain because it has a smaller dollar volume than acute care. After all, 85% of patient visits happen outside of the hospital1 – and clinician and patient needs in offsite settings are just as urgent as those in the hospital.
Take time to educate staff on how supply chain can help. Emphasize the supply chain team's commitment to patient outcomes and clinician satisfaction, not just cost and logistics.
Consider hiring a clinical resource coordinator to build bridges between the supply chain team and clinicians.
Be prepared to offer different delivery models in non-acute care, such as low-unit-of-measure or patient home delivery.
Develop a plan for gathering usage, contract compliance and standardization data for recently-acquired non-acute sites. Check in with the non-acute distributor – they may have tools and resources to give you more visibility.
---
1: Health, United States, 2015. US Department of Health and Human Services, Centers for Disease Control and Prevention.