Non-acute care & specialty pharmaceuticals: Building a better model
Specialty pharmaceuticals are expensive, require special handling and are growing in usage. What is the best way to manage these drugs?
Specialty drugs are more in demand now than ever. Want proof? While watching your favorite TV show this week, count the number of times you hear, "Ask your doctor if BLANK is right for you" during a commercial break. These medications, sometimes called specialty pharmaceuticals, are being used to treat conditions like Crohn's disease, non-Hodgkin's Lymphoma, leukemia, multiple sclerosis and infections resulting from anticancer drug treatments, as well as more common conditions, including high cholesterol and hepatitis C. These specialized medications, which were once only given by specialists, are now being administered in physician offices and are being requested by patients.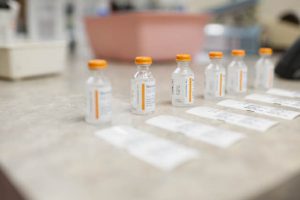 But achieving better patient outcomes rests on something far more straightforward than molecular research – supply chain management. Often administered by injection or infusion, specialty pharmaceuticals can be very expensive. And they're highly regulated. Many specialty pharmaceuticals require climate-controlled storage and special handling. For these reasons and more, specialty pharmaceuticals represent one more opportunity for supply chain professionals to use their expertise in managing high-dollar, temperature sensitive products while controlling costs.
Specialty pharmaceuticals can cause supply chain challenges
"Specialized care – including the administration of specialty pharmaceuticals – is rapidly moving out of the hospital and into non-acute settings," says Ann Gapper, senior director, Rx category management at McKesson. "Patients prefer the convenience of outpatient settings, and payers like the lower costs incurred there."
However, getting specialty drugs to non-acute locations, such as physicians' offices, isn't easy. It can cause your supply chain and pharmacy leaders a lot of headaches.
Traditionally, health systems have either worked with numerous manufacturers or a specialty distributor to source their drugs. But managing orders from multiple suppliers takes time and manpower, says Patrick Baranek, senior manager, pharmaceuticals at McKesson. "Supply chain may be servicing a network of 100-, 200- or even 500-physician offices. Individual orders are placed either over the phone to a variety of manufacturers or by logging onto separate websites."
Specialty pharmaceuticals present unique distribution challenges too, adds Jon Pildis, vice president, materials management at McKesson. "You're moving vials that are worth hundreds, and in some cases, tens of thousands of dollars. That high value means that you have to be very careful with your processes."
Specialty pharmaceuticals also need to be in a temperature-controlled environment to meet regulatory requirements, whether it's refrigeration or frozen storage, he adds. Specialty drugs can be very challenging to correctly manage.
Simplify your pharmaceutical supply chain
To meet the growing demand for specialty pharmaceuticals in the outpatient setting, supply chain and pharmacy leaders should consider simplifying their procurement processes by ordering these drugs through one supply chain expert. From a logistics perspective, using a distributor that handles specialty pharmaceuticals and traditional pharmaceutical offerings and medical-surgical supplies and equipment can pay off and lead to better supply chain performance for its procurement team.
"When expanding your clinical offerings to providing specialty drugs at your non-acute sites, you should consider how you will handle these drugs," says Pildis. "By supplying specialty pharmaceuticals directly to alternate site locations, you will be sparing the health system's supply chain team from receiving, storing and physically moving them. What's more, receiving specialty pharmaceuticals on a just-in-time basis helps clinics minimize on-hand inventory too. This reduces the financial burden on the non-acute staff."
"You're moving specialty pharmaceutical vials that are worth hundreds, and in some cases, tens of thousands of dollars. That high value means that you have to be very careful with the way you manage your pharmaceutical supply chain."
McKesson offers supply chain managers the ability to order specialty pharmaceuticals via electronic data interchange (EDI) or use punch out, says Baranek. Supply chain managers will have a seamless connection and 24/7 access to their data with a business analytics tool. By accessing their non-acute data, supply chain managers understand where their spend is going, and see opportunities for standardization and formulary management. "That helps alleviate headaches," he says.
"If you think about a health system that has already set up an account with a distributor like McKesson, specialty drugs are one more product that can be added to their orders, shipments and invoices," says Gapper. "They can order directly from us and receive the product next-day with high service levels. Plus, they can take advantage of all the technology already in place with us."
As a corporation, McKesson is one of the largest pharmaceutical distributors in the United States. "We work with most manufacturers to expand access to these life-saving drugs that treat a variety of chronic conditions," says Pildis. "We leverage our non-acute distribution experience. We take these specialized, high-value drugs, and run them through our logistics network, and get product to customers in an efficient way."
Supply chain leaders are being asked to tackle many challenges facing healthcare – managing specialty pharmaceuticals shouldn't be one of those. Look for a solution that provides access to a broad product portfolio, an operational model that provides confidence that the quality and regulatory requirements are being met, and the simplicity of integration with existing processes. Same products, better model!
What's a biosimilar?
As supply chain finds itself increasingly involved in specialty pharmaceuticals, you'll start hearing a lot about "biosimilars." What are they?
While they are not the same as generic equivalents, biosimilars are highly similar to – and have no clinically meaningful differences from – existing, FDA-approved reference biologics. They are a rapidly growing treatment option for physicians treating advanced diseases, with more than 20 unique biosimilars expected to enter the U.S. healthcare market over the next decade.
Clinicians are finding that biosimilars:
Expand treatment options for complex diseases
Offer substantial cost-savings on expensive therapies
Are FDA-approved, safe and effective treatments
Come with support from FDA and other leading medical advisory organizations