Why post-acute care is an emerging concern for healthcare supply chain this respiratory season
Since the onset of COVID-19, healthcare supply chain leaders have been hit with demands, questions and frustrations they have not experienced before. Because the diagnosis and treatment of COVID-19 patients can occur anywhere in the healthcare continuum, they are being asked to offer their advice and assistance in areas outside of their usual scope of responsibility.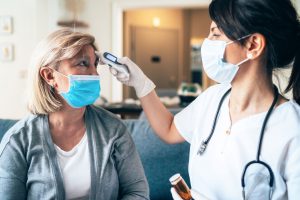 At the McKesson Supply Chain Leadership Forum, which took place during the Association for Health Care Resource & Materials Management (AHRMM) AHRMM20+ conference on October 2, 2020, supply chain leaders from across the U.S. shared lessons learned to date, most notably how they've had to rapidly extend their organization's supply chains into non-acute settings to accommodate growing volumes of COVID-19 patients.
They also expressed their concerns at the onset of the 2020-2021 respiratory season, as COVID-19 cases converge with usual respiratory illnesses of flu, pneumonia, bronchitis, and RSV. During this time, healthcare supply chain professionals are being tasked with helping their organizations' pharmacies and laboratories formulate vaccination and diagnostic testing strategies aimed at managing an anticipated surge in testing and treatment outside of the hospital.
From negotiating supplier contracts, to evaluating testing modalities to managing the distribution of vaccines and ancillary supplies (needles/syringes, gloves), supply chain leaders face unprecedented challenges in supporting clinicians in the delivery of patient care.
Supporting the shift into non-acute
Greg Colizzi, vice president of health systems marketing, McKesson, who led the series of forums in 2020, found the general theme of the AHRMM discussion to be quite different from those held at other industry events this year.
"While the participants at this forum voiced concerns similar to previous forum attendees, including medical/surgical, pharmaceutical and laboratory needs, the main focus of the discussion was on how to broaden supply chain's reach into non-traditional areas," said Colizzi. "Although maintaining an adequate supply of personal protection equipment (PPE) during the COVID-19 pandemic is an ongoing challenge, healthcare supply chain leaders are looking further down the road at other factors that will impact patient care during the months ahead."
The sudden and rapid volume of COVID-19 patients in hot spot areas throughout the year has forced healthcare organizations to increase acuity levels in care settings outside of the hospital so they can treat those suffering serious complications from the virus. For example, pre-COVID-19, skilled nursing facility staff and home health aides did not require isolation gowns with Association for the Advancement of Medical Instrumentation (AAMI) level ratings, and they did not routinely wear N95 masks. Supply chain has been called upon to provide these locations with medical equipment and supplies, shifting existing resources and finding new supply sources and alternative products at a time of supply chain disruptions and shortages.
"My biggest concern in the non-acute setting as we go into respiratory season are the places where I don't have direct control, such as long-term care, home health and hospice. I have two long-term care facilities in close proximity that can't take patients because they had a COVID-19 outbreak. While these facilities might have open beds, they can't take patients; therefore, I have less places to send people outside of the hospital."
One attendee, a vice president of supply chain for an academic medical center with 150 non-acute locations, said her organization took over floors in nursing facilities, staffing and supplying them to support higher acuity levels.
"We provided the necessary PPE and other supplies for those units so our medical center could directly discharge COVID-19 patients into them," she said. "It is amazing how quickly we all had to move and adapt."
The executive director of supply chain for a three-hospital health system in the Southeastern U.S. with 30 non-acute locations said her state's government has identified long term care facilities that will accept COVID-19 positive patients, as well as those recovering from the virus. For example, they were able to capitalize on a new facility recently opened with no patients yet admitted, describing it as "the right time and moment for it to be available." She and her team have worked with clinicians to ensure they have what they need in terms of supplies when caring for patients in these non-traditional settings.
Pharmaceutical prevention strategy
With an anticipated surge in patients seeking protection from preventable illnesses, forum attendees expressed concerns around meeting flu vaccine demand this respiratory season. Because this season is unlike any other with COVID-19 driving new patient behaviors, health systems cannot look to past seasons to gather data on which to base their vaccine demand planning.
Patrick Baranek, senior manager, Rx, McKesson, who spoke at the forum, offered the following advice to supply chain leaders as they assist their organizations in developing flu vaccination strategies, with a focus on price, product availability and ordering processes.
"Achieve the best price you can by working with your distributor, GPO and manufacturers to make sure you have the right portfolio and contract alignment for vaccines and related supplies," said Baranek. "Ensure there is enough vaccine on hand to avoid turning patients away but make sure you understand the return policy for any portion of unused product to avoid leaving dollars on the shelf. Also, take advantage of electronic data exchange (EDI) ordering for non-acute facility ordering to support process efficiency, on-contract purchasing, price accuracy and the ability to capture data electronically for advanced analytics."
Testing & diagnosis
Another particular challenge facing healthcare organizations is the administration of diagnostic tests for COVID-19, on top of testing for other respiratory illnesses. The ability to rapidly and accurately determine whether a patient has COVID-19, as opposed to another condition, is critical to minimizing virus spread. Therefore, health systems need a point of care (POC) testing portfolio that can be administered throughout the continuum of care – from the hospital to the home.
The supply chain leaders in attendance at the forum expressed their concerns with respiratory illness testing and diagnosis in non-acute locations, and questioned the variety of tests available, their accuracy, and the supplies and equipment necessary to administer them. For instance, with COVID-19 still being prevalent and flu season fast approaching there will likely be outbreaks of both illnesses in skilled nursing facilities, with staff required to test and treat these patients in place.
John Harris, VP, strategic accounts, laboratory, McKesson, described the three types of POC COVID-19 tests available on the market today: antigen, molecular and serology. He noted how supply chain leaders, with their manufacturer and distributor relationships, are in an ideal position to help guide health systems in the selection of testing modalities. Not only can supply chain inform health system leaders on pricing and contracts, they can also leverage their industry relationships to keep abreast of current test availability and new options entering the marketplace.
Supply chain leaders must also take into account testing protocols that have been issued for specific types of facilities, such as the Centers for Medicare & Medicaid (CMS) Long-Term Care (LTC) Facility Testing Requirements for Staff and Residents, which was published on August 25, 2020.1 Under the regulation, facilities must perform molecular or antigen testing for COVID-19 among residents and staff members because these tests detect the active virus rather than an "antibody test [which] looks for antibodies that are made by the immune system in response to a threat."
"The lab area is rapidly changing, sometimes on a daily basis, with new tests coming through the FDA's EUA process," said Harris. "When planning your testing algorithm, examine your health system and hospital from a holistic perspective to determine what contracts you have in place and what relationships you can leverage within the supply chain. Keep in mind that it is equally important to think about what is right for individual practices and their patients. There is no 'one size fits all' solution. Diversification not only allows an organization to meet individual care site's needs, but also shift testing modalities to meet the changing needs of practices and unexpected changes in the marketplace."
An evolving environment
Colizzi points out how the themes in these forums over the past four months have revealed the evolving nature of the pandemic and how supply chain professionals continue to adapt their strategies and tactics to meet the changing needs of clinicians and their patients.
"We've worked with many health systems across the U.S. and have learned so much from them," said Colizzi. "One thing that many supply chain leaders have in common is they are trying to drive meaningful results for their organizations, helping to improve financial outcomes while supporting clinical programs. These discussions have been a great opportunity for everybody to share their views and challenges, ask questions of their peers, and make sure they walk away with answers to their questions and hopefully some ideas they can use moving forward."
---